Meet the CEO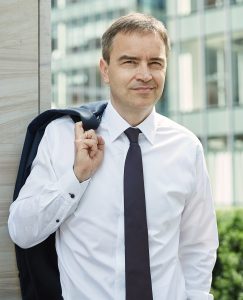 Jacek Jabłoński has over 20 years of managerial experience. He graduated from Business School (Ecole Supérieure de Commerce) in Dijon (France) in 1993. He started his career in France at L'Oréal – one of the leading companies in the Hygiene & Beauty market. In 1995 he joined the Polish subsidiary of L'Oreal where he was employed as the Area Sales Manager and Commercial Director.
From 2003 he became the General Manager in Romania, where he launched the Vichy brand in the local market. After these 4 years of experience, he moved to Prague when during the 2 following years he led one of the operational divisions.  From 2013 to 2016 he worked as general manager of the Polish subsidiary of Nuxe - one of the most prestigious French cosmetic brands.
In 2009, he created B-Active Headhunting, an executive search company operating in the Polish and Czech market. He specialises in recruitments  in the sectors of FMCG, the pharmaceutical and cosmetic industry, mainly in sales, marketing and general management positions.
Jacek, in addition to his native Polish, speaks Czech, English, French and Romanian fluently.